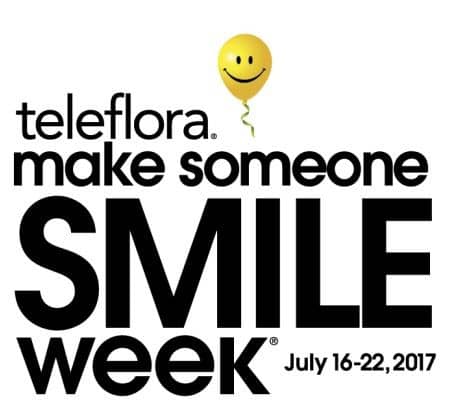 America's Most Benevolent Volunteer Program Led by Local Florists
Brings Joy and Smiles to Local Residents in Communities Across the Country
LOS ANGELES (July 12, 2017) – Giving back to the community by gifting flowers has been a lifetime achievement for Teleflora, the world's leading floral delivery service for more than 80 years. But for one week every year, Teleflora and its network of professional florists around the country go the extra mile to shower residents in their local communities with a heartfelt floral surprise through Make Someone Smile Week®, now celebrating its 17th year as one of the floral industry's most successful volunteer programs. From Sunday, July 16 through Saturday, July 22, 2017, Teleflora member florists and community volunteers around the country are busy preparing and delivering thousands of its handmade Be Happy® Bouquets to VA hospitals, recipients of Meals-on-Wheels programs, residents at senior assisted living centers and nursing homes, as well as giving "thanks" to first responders at their local police and fire departments.
Teleflora donates more than 25,000 Be Happy® Mugs, a year-round bestselling product to Teleflora's 40 florist units across the country. Member florists then work with local wholesalers and growers in their area to secure donations of flowers. The donated flowers help local Teleflora florists and teams of volunteers design the cheerful Be Happy® Bouquets, full of vibrant flowers and deliver them to residents and charities of their choosing in their neighborhoods.
"Teleflora's Make Someone Smile Week is a true testament of 'flower power,' and how a simple act of kindness can make a big difference to someone in need of a smile," says Rich Salvaggio, vice president of industry relations and publications at Teleflora. "Since its inception in 2000, Teleflora member florists have put their heart into this program, rallying local volunteers and working tirelessly to share the unexpected gift of receiving flowers with many individuals who may have never received flowers in their lives. It's about brightening someone's day, watching their face light up and making them feel special; that's the greatest gift to a florist."
Last year's program spanned over 140 cities and 380 facilities throughout the United States and Canada; with more than 1,000 florists donating their time to make and deliver Be Happy Bouquets. Teleflora's program delivered more than 27,000 bouquets to those most in need of a smile.
As Teleflora florists are making deliveries again this year for Make Someone Smile Week, consumers can also share in the spirit of gifting a smile to someone in need by visiting http://www.teleflora.com.
About Teleflora
Teleflora brings together the time-honored tradition of sending flowers with the modern benefits of an advanced florist network. By tapping over 10,000 member florists in North America alone, Teleflora offers the kind of personal touches, artistry and expertise you expect from a trusted neighborhood florist—even if that neighborhood is across the country. No prepackaged flowers in nondescript boxes dropped on your doorstep—Teleflora's network of professional florists create artistic arrangements personally delivered in a vase, often on the same day. And, with the organization's pioneering "Flowers in a Gift" Collection, the recipient gets a keepsake that turns the treasured gesture of a bouquet into a lasting memento. Luxe yet affordable, aspirational yet accessible, Teleflora makes every day an occasion. Follow Teleflora on Facebook and Teleflora Industry Relations on Facebook.
CONTACT:
Crystal Espinosa (
crystal.espinosa@wonderful.com
)
310.966.4665